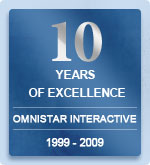 Private Label Web Site Promotion Software
| | |
| --- | --- |
| Omnistar Tell is a dynamic viral marketing system that allows web visitors to 'tell a friend' about any individual page. Our private label web site promotion software then tracks both the sender and receiver, gathering useful data for future scalability, and can be set up to automatically market to them on a regular basis from then on, all with just the push of a button. No one who owns a website should ever be without Omnistar Tell. Our tell a friend software is simply one of the most useful apps you can provide to your reseller customers, especially since the software is such a great deal. | |
Resell Tell a Friend Software
Resell tell-a-friend software that you can count on. Our private label web site promotion software tool is the best on the web, and a copy should be placed on every website that really wants to make an impact. Omnistar Tell is the perfect upsell with any other web application sale you make.


Tell a Friend Manager
Autoresponder Manager
Built-in HTML Emails Templates
Advanced Configuration Manager
Spam Protection

Advanced Reporting
Easily Email Users
Setup Email Automation
View Detail of Referrers
View Detail of Referred

Easily Private Label
Easy Setup
Getting Started Wizard
Totally Customizable User Area
Totally Customizable Admin Area

Installs on PHP / MySQL
Free Installation
Totally Web-based
Password Protected Backend
Manage Unlimited Users

Immediate Download
Upon ordering the Omnistar Tell Install version you will be able to immediately download and install the product. In addition, we offer Same Day optional FREE installs if you require our technical team to install the product. If you order our hosted version, after we confirm your order, we will set up your account the same day.


Lifetime Upgrades
Unlike other products that charge for new versions and upgrades, Omnistar Interactive offers FREE upgrades for life. Even if the product version number changes, you will still be entitled to a free upgrade. Our software team is continually adding new features and offers several new versions every year.


Re-Brand Omnistar Tell
Omnistar Tell can be easily re-branded so that web developers and designers can sell the product as their own.


Easily Generate User Code
Omnistar Tell allows administrators to easily generate code to display on your user pages. Through the back-end interface you will be given code to easily cut and paste onto your pages.


Display Tell-a-Friend Icon on Unlimited Pages
Omnistar Tell allows you to display your tell-a-friend code on unlimited pages.


Autoresponder – Automate your Email Marketing
Omnistar Tell will allow your business to set up UNLIMITED sequences of auto responding messages that can go out any day you choose. Once your referrers signup others users you can use Omnistar Tell to schedule a series of follow up emails. You can schedule 1, 5 or even 500 emails to go out to your users with separate time intervals. You can send these follow up emails to either the person who referred the users or the referred users.


Attractive HTML Templates
Omnistar Tell includes a complete set of attractive templates. Each template can be customized and you can send the HTML emails to your referred users.


Customizable User Interface
Omnistar Tell allows you to use your own image for the tell-a-friend image. In addition, you are able to totally customize the pop-up page with your own images or total customize by using HTML. Finally, you can completely customize the colors of the pop up page.


Customize Email Settings
Omnistar Tell allows you to customize all emails sent through the system. In addition, you can also use the HTML Templates that are included in Omnistar Tell. Also, all emails can be personalized.


Spam Control
Omnistar Tell allows you to blacklist emails and IP addresses. These blacklisted IPs and emails can be easily managed.


Detail Reports
Omnistar Tell comes with a set of detail reports that allows you to view information such as the number of users referred by a certain users, date the first person referred, the date the last person referred, the sites where users were referred and more.


Manage Email Campaign
Omnistar Tell allows administrators to easily send emails to either the users who referred others or the referred users.


Easily Manage Administrative Password
Omnistar Tell allows you to easily manage the password in your administrative section.


No Technical Experience Required
Omnistar Tell has been designed to be very user-friendly. You do not have to have any technical experience to use Omnistar Tell.


Free Install
Omnistar Tell is very easy to install and takes less then five minutes. However, our technical team can install Omnistar Tell for free.


Increase Sales
The refer-a-friend method has been shown to dramatically increase sales. We have heard from many clients that once they start using Omnistar Tell, there sales increased as much as 200%.


Still not convinced
Click here to see why thousands of webmasters choose Omnistar Tell over the competition.

100% 30 Day Money Back Guarantee
Omnistar is so convinced that you'll love our product that we offer a 30 Day money back guarantee. If within the first 30 days after purchasing our product you decide for whatever reason it is not the right product for your business simply let us know and you will receive a full refund.
The Omnistar Guarantee.