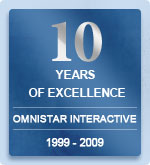 Private Label Email Marketing Software
| | |
| --- | --- |
| You've never seen real email marketing until you've seen Omnistar Mailer, our private label shopping cart software. Our top of the line private label web based email marketing software will automatically target those customers that are most likely to buy by sending mass marketing emails tailored specifically to each individual customer all with just the push of a button. The shopping cart software provides excellent options and customization, making it extremely easy to sell to your customers. Because it is such a great offering, we know you will love our software too. | |
Resell Email Marketing Campaign Software
Your clients will be amazed not just at the automation, but also by the extreme ease of use. By including professionally designed templates for any marketing emails your clients will want to send, as well as a free ebook that goes straight to the details of how to market effectively using email, literally everyone will be able to start using the best email autoresponder software you can find within literally minutes. This is one product that literally pays for itself in the first mailing, so you can be assured of always finding new clients to resell autoresponder software everyone can use to; and expect to be thanked again and again for providing this product.


Create Unlimited Mailing List
Create Unlimited Autoresponders
Create Unlimited Campaigns
Create On-line Surveys
Create On-line Reminders

Detail Reports
Fast Email Send Engine
Schedule Email Mail-outs
Advance User Management
Create Target List

Easily Private Label
Easy Setup
Getting Started Wizard
Totally Customizable User Area
Totally Customizable Admin Area

Installs on PHP / MySQL
Free Installation
Totally Web-based
Password Protected Backend
Manage up to 300,000 emails

Immediate Download
Upon ordering the Omnistar Mailer Install version you will be able to immediately download and install the product. In addition, we offer Same Day optional FREE installs if you require our technical team to install the product. If you order our hosted version, after we confirm your order, we will set up your account the same day.


Lifetime Upgrades
Unlike other products that charge for new versions and upgrades, Omnistar Interactive offers FREE upgrades for life. Even if the product version number changes, you will still be entitled to a free upgrade. Our software team is continually adding new features and offers several new versions every year.


Re-Brand Omnistar Mailer
Omnistar Mailer can be easily re-branded so that web developers and designers can sell the product as their own.


Autoresponder – Automate your Email Marketing
Omnistar Mailer will allow your business to set up UNLIMITED sequences of auto responding messages that can go out any day you choose. Once your subscribers sign up to your mailing list, you can use Omnistar Mailer to schedule a series of follow up emails. You can schedule 1, 5 or even 500 emails to go out to your users with separate time intervals.


Create Unlimited Target List
A target list will allow you to segment your list to specific users based upon your customized fields. For example, consider a custom field for Color, containing the options Red, White and Blue. If you would like to send email to only users that have Blue selected, then you can create a target list containing only those users.


Can-Spam Act Compliant
Omnistar Mailer has several features that ensure that your system is compliant with federal regulations on bulk email. First Omnistar Mailer has an option for to allow clients to double opt-in. Also, when clients sign-up Omnistar Mailer logs the clients IP and Date and allows administrators to easily retrieve this information per client. Also, clients who would like to un-subscribe from your email list can easily un-subscribe with one click.


Send to Huge Email List
Omnistar Mailer has been tested with over 250,000 emails. Therefore, as your list grows Omnistar Mailer will be able to keep up.


Shared Hosting Friendly
Some shared hosting companies limit the number of emails their users can send. Therefore, Omnistar Mailer includes an optional feature that allows administrators to set a delay between each email. By default this option is not set and there is no delay between emails. However, if your hosting company requires this feature, it can easily be set.


Integrated Reminder System
Great for birthdays, anniversaries, contract dates and any other dates that you will need to remember about a particular email. Once you add an email, you will have an option to add a reminder. Our system will automatically email you the specific reminder on the date specified.


Create Unlimited Email List
Omnistar Mailer allows you to create unlimited email list. Each email list you create can have it own set of properties. Therefore, with each email list you will be able to decide if administrators or users will have to review the subscribers before being added to your system.


Create Unlimited Interest Groups
Omnistar Mailer allows users to create unlimited interest groups. Using Interest groups is a way to categorize your subscribers.


Advance Management
Omnistar Mailer includes a separate advance management section that allows the administrators to manage all email lists at the same time. Administrators will be able to delete un-confirmed emails, re-send confirmation emails, and search multiple lists for one email and more.


Anti-Spam Capabilities
Omnistar Mailer includes an anti-spam function that allows administrators to ban emails and domains from signing up.


Archive HTML Email Templates
Omnistar Mailer allows you to easily copy and save unlimited email templates. Omnistar Mailer includes a complete set of attractive templates. Each template can easily be copied and renamed. There is no limit to the number of templates you can save!


Comprehensive Bounce Manager
Omnistar Mailer comes with a comprehensive bounce manager that allows administrators to manage bounced emails. The administrator has several options when it comes to handling bounce messages. The administrator can easily un-subscribe or delete subscribers that receive bounce messages. In additional, the administrative can move bounced subscribers to a special interest group.


Email Process Control
Omnistar Mailer includes an email process control that allows administrators to view campaigns in real-time as they are being sent. The administrator will have the option to pause, resume or stop campaigns as they are being sent.


Detailed Reports
Omnistar Mailer comes with a set of detail reports that allows you to view information such as the percentage who received your email, unique recipients that read your email, number of times your email was opened, the top recipients who opened your email, the total clicks and more.


Automatically Tracks Every Click
Omnistar Mailer will automatically track every click from your email campaign. When clicks are tracked in the report it will display the specific clicks from that mailing. If you have sent the same campaign multiple times then the system will total the times the link was clicked from every campaign sent.


Integrated Survey System
Omnistar Mailer includes an integrated survey system that you can link from any campaign or you can use as a stand-alone survey system. Once a subscriber fills out your surveys you will be able to create detail and summary reports. Omnistar Mailer allows you to create unlimited surveys.


Optional Double Opt-In Capabilities
Omnistar Mailer allows administrators to easily turn on double-opt-in capabilities so that your subscribers and / or administrators will have to confirm subscribers before they are added to the system. This feature is optional and can easily be turned off.


Web Based Administration
The Omnistar Mailer is a totally web based solution that simply requires access to the internet and a web browser. No additional software is needed. All your contacts and email campaigns can be managed from anywhere in the world from one centralized interface.


One-to-One Email Personalization
Omnistar Mailer allows you to create UNLIMITED custom fields such as name, address, phone number that you can have your subscribers fill out when they sign up. When you send out a campaign, you can easily use these personalized fields. Using these personalized fields has been proven to increase the response rate by as much as 400%!


Data Import and Export Capabilities
If you have existing data or records from a different source that you would like to add to your Omnistar Mailer system, you may easily upload this information. If you would like to retrieve data from Omnistar Mailer for use with a different solution or program, data can also be easily exported.


Customization
Omnistar Mailer is totally customizable, allowing you to determine exactly what type of data you want to track and store. Unlike other more rigid solutions, Omnistar Mailer is also very flexible allowing you to make modifications to your forms, data or email campaigns at anytime.


Easy to use
Omnistar Mailer does not require the end-user to have programming experience. In addition, our technical team can even install the program on your server for FREE.


Still not convinced
Click here to see why thousands of webmasters choose Omnistar Mailer over the competition.
100% "No Questions Asked" Money Back Guarantee


Omnistar is so convinced that you'll love our product that we offer a 30-day "No Questions Asked" money back guarantee. If within the first 30 days after purchasing our product you decide for whatever reason it is not the right product for your business simply let us know and you will receive a full refund.

The Omnistar Guarantee.